Contact Us!
Do you have a question? You can send us an email here. Please do keep the subject line of "From Coyote Moon Trading Company", or I may not receive your email. Thanks!
Where Are We?
Coyote Moon Trading Company
309 W 2ND ST
Ordway, CO 81063
Ordway is located in the Arkansas Valley of Colorado. We are 45 miles east of Pueblo, and just 10 miles north of Highway 50 From Rocky Ford, near the junction of Hwy 96 and 71.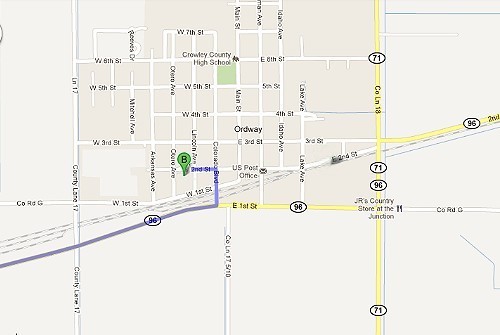 Click, on a map image to view a larger image. This will open a new window. Just close it, to return here.
When Are We Open?
STORE HOURS(beginning July 14th):
MONDAY: CLOSED
TUES - FRI: 10am-5pm
SATURDAY: 10am-3pm
SUNDAY: 10am-12 Noon
So, if you find yourself in Southeastern Colorado, why not drop by? Whatever your experience, Coyote Moon Trading Company will surely bring a smile to the face.
Love and Peace,
Erin & Ralph Gjertsen
p.s. We presently accept cash only, as payment. However, there is an ATM just a couple of blocks away, if you need to use a debit or credit card.